The Salvation Army sits on the Committee for Migration, a committee aimed to encourage the protection and promotion of migrants' human rights in accordance with the United Nations Charter. This goes along with our Salvation Army Mission Statement, which promotes the fact that we meet human needs in His name without discrimination. Migration falls into many categories of the Sustainable Development Goals: #1 – End Poverty and its Forms everywhere, #2 – End hunger, achieve food security, and improve nutrition and promote sustainable agriculture, #3 – Ensure healthy lives and promote well-being for all, at all ages, #4 – Ensure inclusive and equitable quality education and promote lifelong learning opportunities for all. As a matter of fact, migration falls under all Sustainable Development Goals.
Record-breaking numbers of refugees and migrants are moving across international borders, fleeing conflict, persecution, poverty and other life-threatening situations, or responding to labour and skill shortages and demographic changes and seeking better opportunities elsewhere. Their journeys can be fraught with peril; appalling tales of tragedies feature daily in the headlines. Those that make it to a destination are frequently met with hostility and intolerance. Those host communities making an effort to provide relief are often unprepared and overburdened by the sheer numbers arriving. Responsibilities are not well distributed: a small number of countries and host communities host disproportionate numbers of refugees, asylum seekers and migrants.
Over 65 million people in the world today have been forcibly removed from their home, seeking refuge from conflicts, violence, human rights violations, persecution or natural disasters. An estimated 12.4 million people were newly displaced in 2017 alone, according to the United Nations High Commissioner for Refugees (UNHCR).
The Salvation Army responded across the continents, providing practical, emotional and spiritual support.
Switzerland, Austria and Hungary Territory response is 3,500 guests are housed in 20 centers for refugees, and The Salvation Army rents about 380 apartments for refugees. Assimilation efforts include a language school, computer courses and the "Hands On" project to create 1,000 places of work and apprenticeship for refugees. Roughly 2,500 volunteers from various corps are involved, helping with everything from language lessons to transportation to medical appointments.
Norway, Iceland and The Færoes Territory is offering emergency housing with over 380 beds for asylum seekers, in addition to food, clothing, toys, and medical advice. As part of its long-term integration, The Salvation Army is offering job training and language courses, as well as, skiing, football, indoor hockey, hiking, chess, knitting, and singing classes.
On January 29 and 30, 2018 the International Social Justice Commission hosted a landmark online summit to consider the plight of refugees and displaced people.
The Salvation Army, along with other churches and faith-based organizations, is playing a key role in responding to the crisis and engaging with people affected around the world. It is intended that this summit will inspire people within The Salvation Army and beyond to engage with the global migrant crisis and to find meaningful ways to share experiences, encourage each other, learn lessons and pray together from a more informed perspective.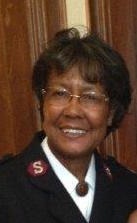 Major Victoria Edmonds
I am the Salvation Army Senior Representative to the United Nations, representing the International Salvation Army. I am an Indigenous Tuscarora Native American. A Salvation Army Officer of 33 years, working with the International Social Justice Commission since 2007 at its very beginning. It is a honor to serve.